Retaining Walls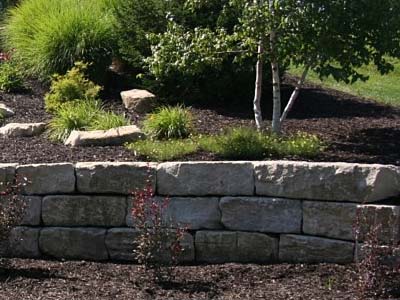 Sometimes the open spaces on your property have slopes or the grading isn't as it should be. At times such as these, it becomes important to get the land excavated and leveled before you start constructing anything or installing any hardscaping or softscaping features there. Once the ground has been excavated, it becomes necessary to provide support to the exposed rock and soil of the slopes; this is where retaining walls come into the picture.

When you want any retaining wall work done, you want to be assured that experienced contractors handle the job. Pure Blue Luxury Pools and Outdoor Living is a well-established company in this space that provides comprehensive services to customers in and around Kansas City MO, Kansas City KS and Overland Park KS. They also cater to a vast clientele across Parkville MO, Smithville MO and Gladstone MO as well as Liberty MO.


Retaining Wall Blocks
Most companies recommend the use of retaining wall blocks to build these supporting walls. The blocks are made using concrete and if you find the surface too dull or drab, you can get brick or natural stone veneers affixed on them. This improves their aesthetic and creates a very attractive look in your landscape. These modular blocks are easy to install; they are strong, durable and easy to maintain as well.


Concrete Blocks
Concrete wall blocks have a modular format and are an ideal solution for constructing a retaining wall. Their interlocking structure adds to the stability and strength of the wall. If you feel that the plain concrete surface looks too dull, you have the option to get some veneer material installed on them to improve their appearance and make it match the other installations in your yard or garden.


Building a Retaining Wall
A retaining wall is a specially engineered structure and the construction has to be handled by expert and experienced masons. It's important that you look for landscapers that have experience in building retaining walls using the right type of materials and expert workmanship. When these walls are constructed well they provide the landscape good support and help prevent soil erosion as well.


Retaining Wall Design
Many property owners wonder whether the walls in their landscape can be made to look more aesthetically appealing. Skilled landscapers can make sure that the design of the retaining wall is in sync with the rest of the landscaping. If you like they can also incorporate in-built seating in the wall design or can make space for recessed lighting or planters to add to the aesthetics and functionality of the walls.


Block wall
A block wall is often built in landscaped areas where there is soil erosion. This type of wall may also be built in open spaces where some excavation has been done to create a leveled area for a driveway, walkway, deck, kitchen, patio or outdoor kitchen etc. This structure is strong and sturdy and provides the landscape the support it needs.

Creating beautiful landscapes takes a lot of creativity, skill, experience and expertise. It's why you should always hire the services of companies like Pure Blue Luxury Pools and Outdoor Living for the job. They will ensure your landscape looks just as you envisioned it to be.

"MORE ARTICLES"
We Provide Services to the Following Cities, Towns and surrounding areas in KS and MO: