Paver Installation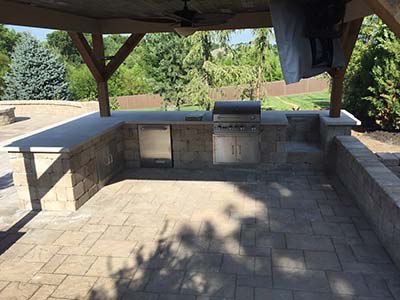 Gardens and yards are always exposed to the elements and have to endure climatic changes and the features can start looking old and worn very quickly. The one way to ensure that your driveway, patio, decks, poolscapes, pathways and walkways stay looking great at all times, is to get paver stones installed on them. These units look great in any setting.

When you want any paving work done, you want to be assured that experienced contractors handle the job. Pure Blue Luxury Pools and Outdoor Living is a well-established company in this space that provides comprehensive services to customers in and around Kansas City MO, Kansas City KS and Overland Park KS. They also cater to a vast clientele across Parkville MO, Smithville MO and Gladstone MO as well as Liberty MO. They provide a range of paving services such as:


Installing Pavers
Pavers are installed on a bed of compacted sand and aren't fixed to the ground with any cement or mortar. This is why it may seem like a very easy job that can be turned into a DIY project. But the fact is that paver installation is best left to the experts. They have the experience, training and the resources to install the paving in the right manner.


How To Install Pavers
Paving is easy to install though it's a specialized job. These individual units have to be set like pieces of a jigsaw puzzle in the design and pattern you want. The installation is started from the middle of the area to be paved and the units are successively positioned over the entire area till they reach the edges after which edging will be installed to prevent the pavers from shifting.


Installing Patio Pavers
When you are getting patio pavers installed, you need to choose the colors and styling of the units with care. The paving should match the look of the indoor and outdoor areas of your home and should be very strong and resilient too. The installation should be handled by experts as they will ensure every single unit is set in place properly and that the right type of edging is installed.


Installing Brick Pavers
Brick paving is a very popular material used in many projects. These units have a very rustic and earthy look and look good in any type of outdoor setting as they complement the look of all the greenery in the landscape. When you want to get brick pavers installed, choose a good company that has handled these types of projects in the past as well.


Paver Installers
The paver installers you hire for your work should have the skills and training to install these units artistically and expertly. They will survey the space and provide solutions and design ideas and will also help you choose the right material based on your specific requirements. Look for a company that has experience and is reputed in the field.

Creating beautiful landscapes takes a lot of creativity, skill, experience and expertise. It's why you should always hire the services of companies like Pure Blue Luxury Pools and Outdoor Living for the job. They will ensure your landscape looks just as you envisioned it to be.

"MORE ARTICLES"
We Provide Services to the Following Cities, Towns and surrounding areas in KS and MO: